Armchair Cruisers llc.
The Most Comfortable Rides on the planet!!!!
PHOTOS MEDIA ROOM ORDERING CONTACT US
WATCH THEM IN ACTION!! VIDEOS HERE!!!
PHOTOS
Feel Free To Right Click on a Photo to save or share with a Friend. These Photos are Free to distribute on this page. Media and Bloggers may also repost as desired. Thanks for visiting!
This is a sweet machine. This chair is gas powered, goes 40 mph , does wheelies and has an onboard cooler. Steering, Gas and brakes are all controlled in the two hand controls leaving your feet free to catch some air. Its a total blast to drive..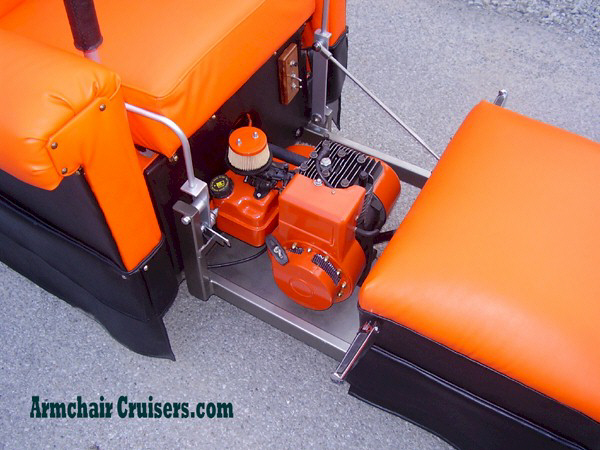 This is Fergs personal ride. This machine is very valuable. Especially to Ferg. Hes been offered crazy money for it but to his credit, he wont sell. Similar chairs are available with updated controls. Just not this one. This machine has a highly detailed motor with polished fins and custom breather with numerous decorative details.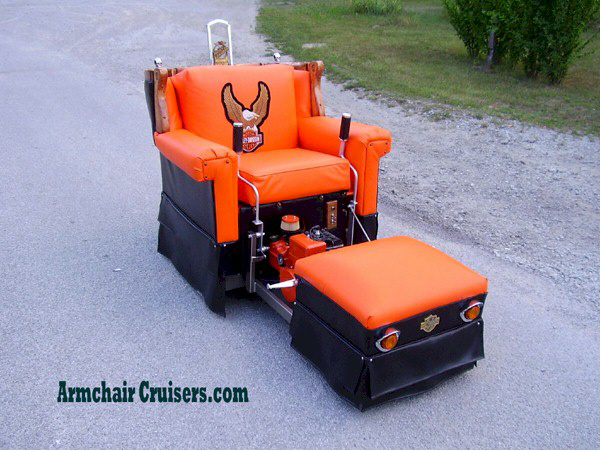 This chair also features a horn and functional marker lamps.
What Chair shouldn't have dual hand crafted copper exhaust and a custom cooler onboard?? Notice the wheelie bars hidden under the cooler just above the copper exhaust tip.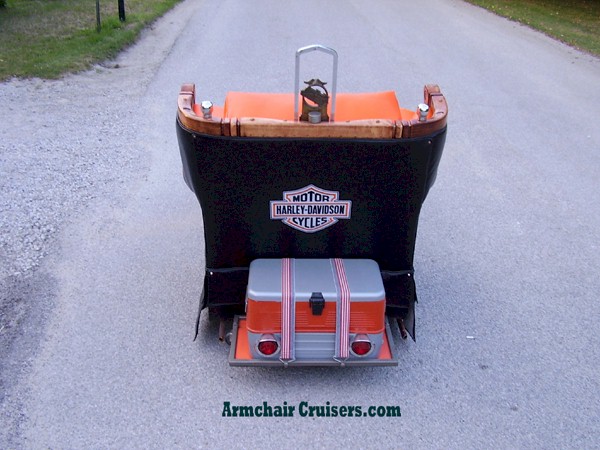 Chrome skulls accent the chair with hand polished wood trim.
Rear Badge is reflective for night time cruising increasing awareness of other drivers. This is Fergs machine, Ands its Unbelievable....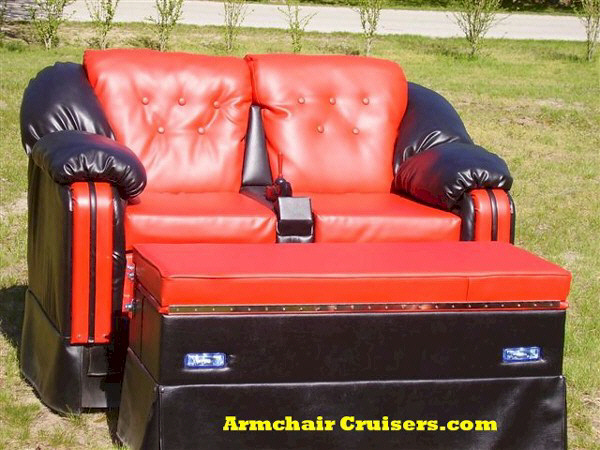 When traveling in a pair, this is the machine for you!! This is a programmable electric drive system that allows you to cruise nearly silently with total ease. Designed to be driven from either seat, even a small child can quickly learn to navigate this machine with precision in just moments. All controls are in the joystick. Simply lean the stick in the direction you wish to travel and you are off. With an onboard charger, Lights, a thumpin stereo and horn, this machine is sure to please. Other then plugging in this machine occasionally to standard 120 volt power, this machine is maintenance free. Operating range will depend upon terrain and load but expect to get 12-15 miles between charges. Brakes are automatically applied or released based upon stick position. This machine will turn a 720 degree turn inside a 8x8 foot box. Way cool...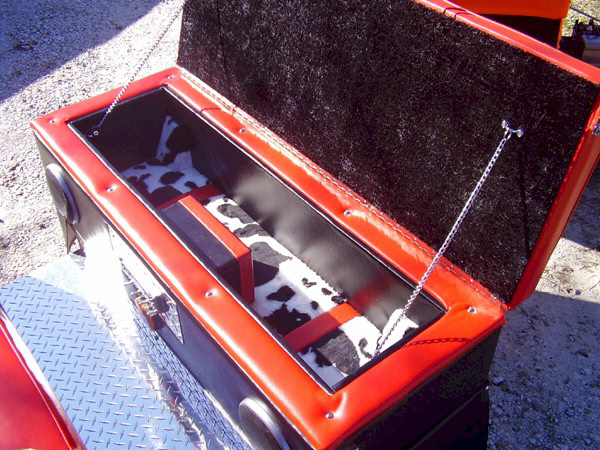 Diamond plate city... Oh yes, the floorboard is custom built polished plate with accents through out. Floorboard is lighted for ease of entry at night and plenty of storage is available under the footstool. We spend and incredible amount of time in details making these some of the nicest machines ever built. We are pretty serious about our chairs!!!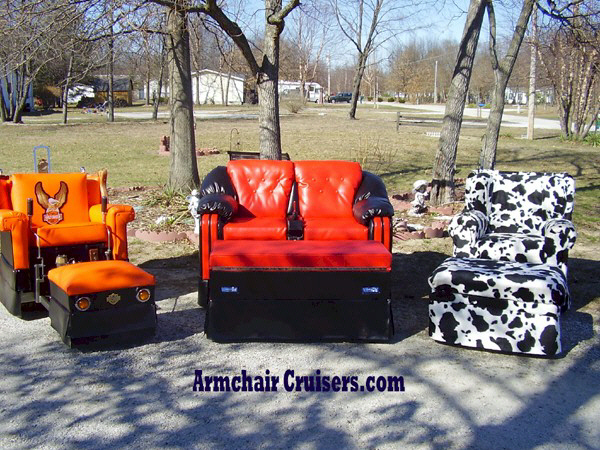 A nice collection everyone should have!!
Aahhhh A favorite of Armchair Junkies.. This is one comfy chair. Excellent for reading a book in or taking a nap outdoors. This chair is also electric and controlled with a joystick. Slightly overstuffed with large diamond plate loading deck makes for perfect afternoons. This represents our straight forward view of a economical entry level Armchair Cruiser.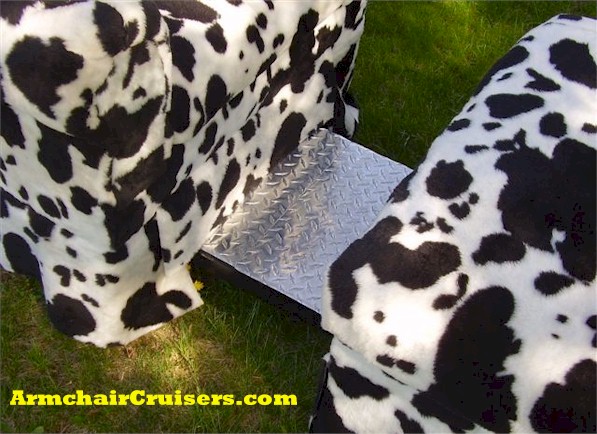 Polished loading deck allows for easy entry and provides an alternate position for the feet when traveling.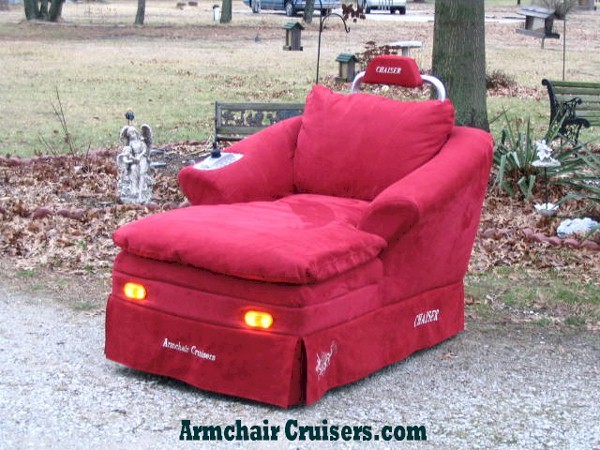 The Chaiser. Like all the others this is a great machine. Joystick driven with plenty of torque, your friends will be envious.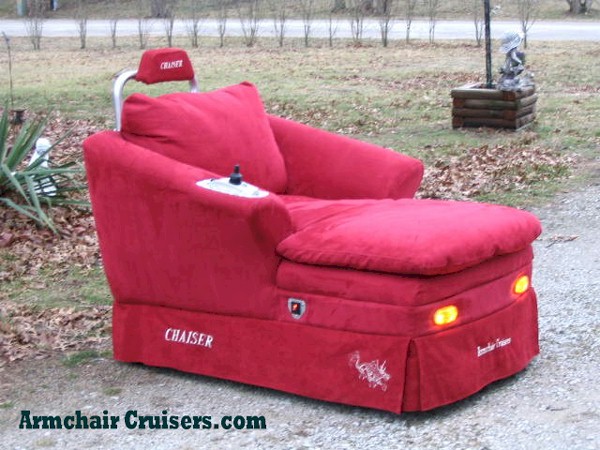 Photos do not do any of our machines justice.. You have to touch taste and smell them for the total experience.
After a brief altercation and some fast talking... I finally got these two OUT of the chair!!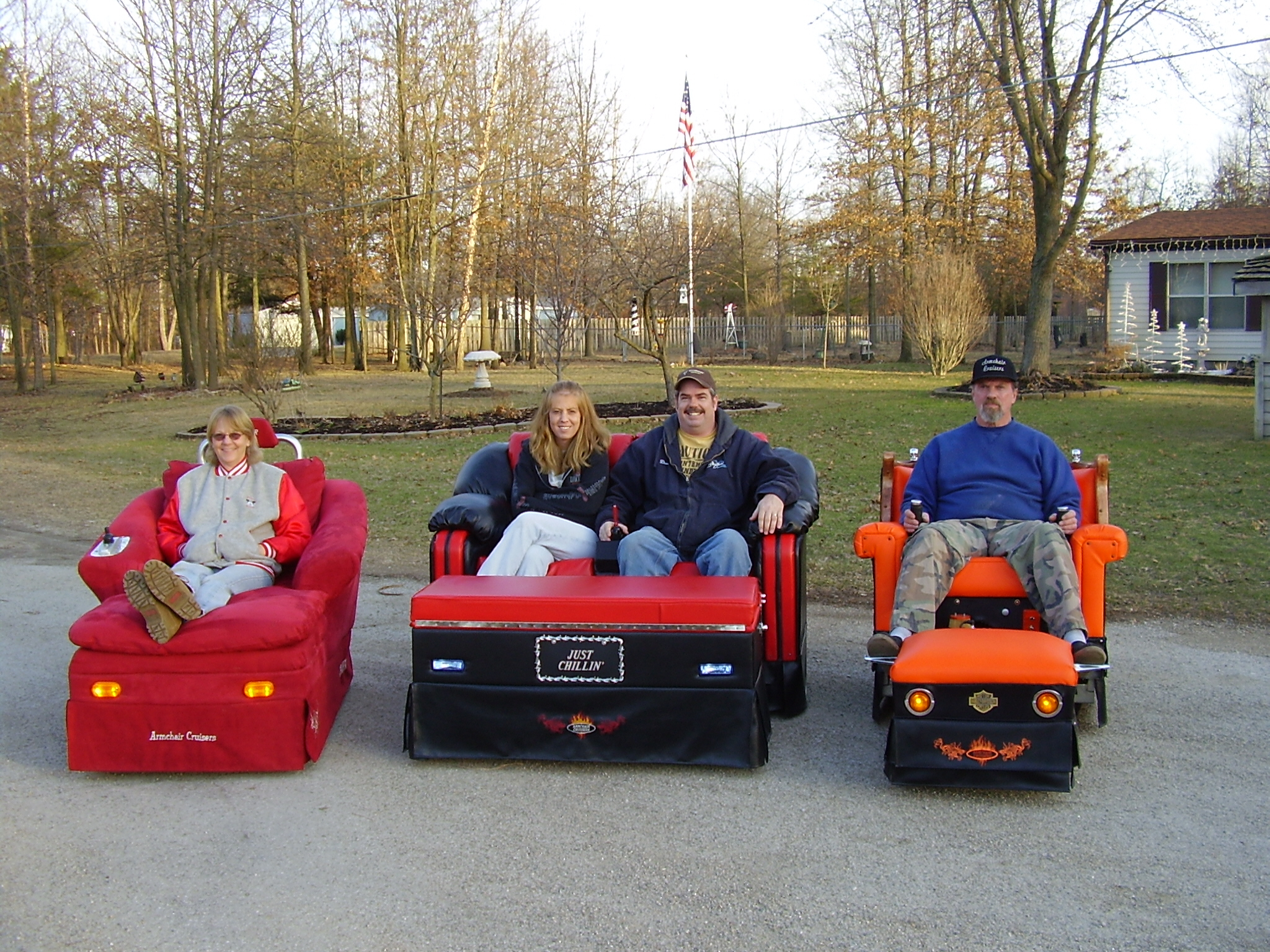 Now that is some serious couch potatoes!!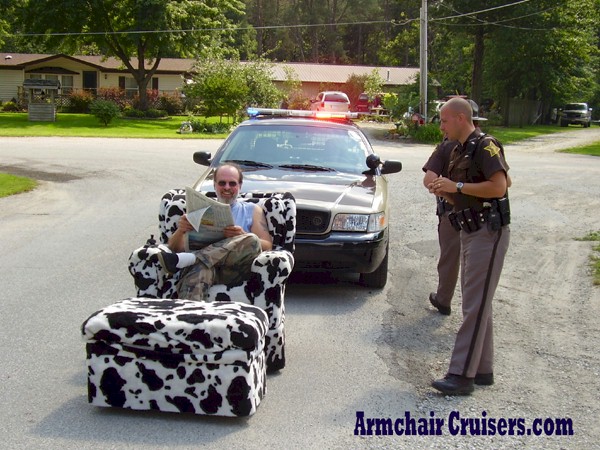 Read about the experimental Cloaking mechanism here!!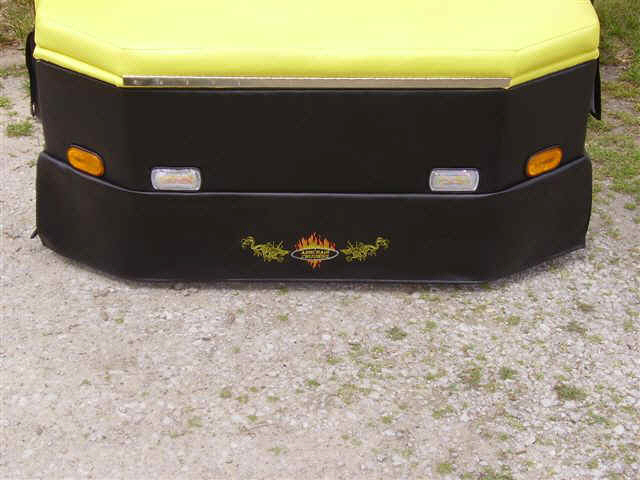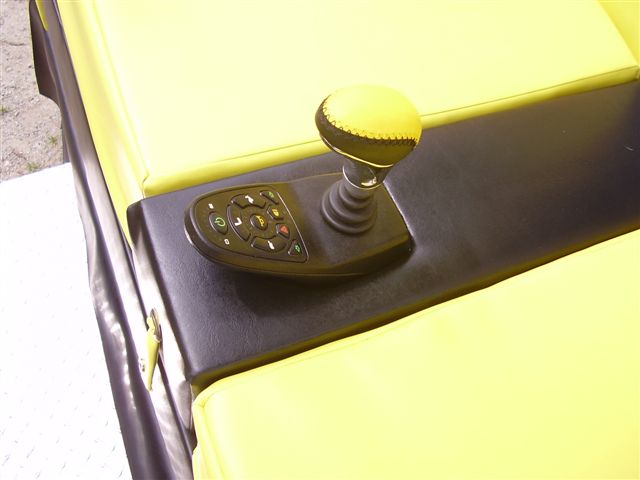 Who doesnt want a chair with two margarita blenders, a sirius satellite system, and a cooler with a tap?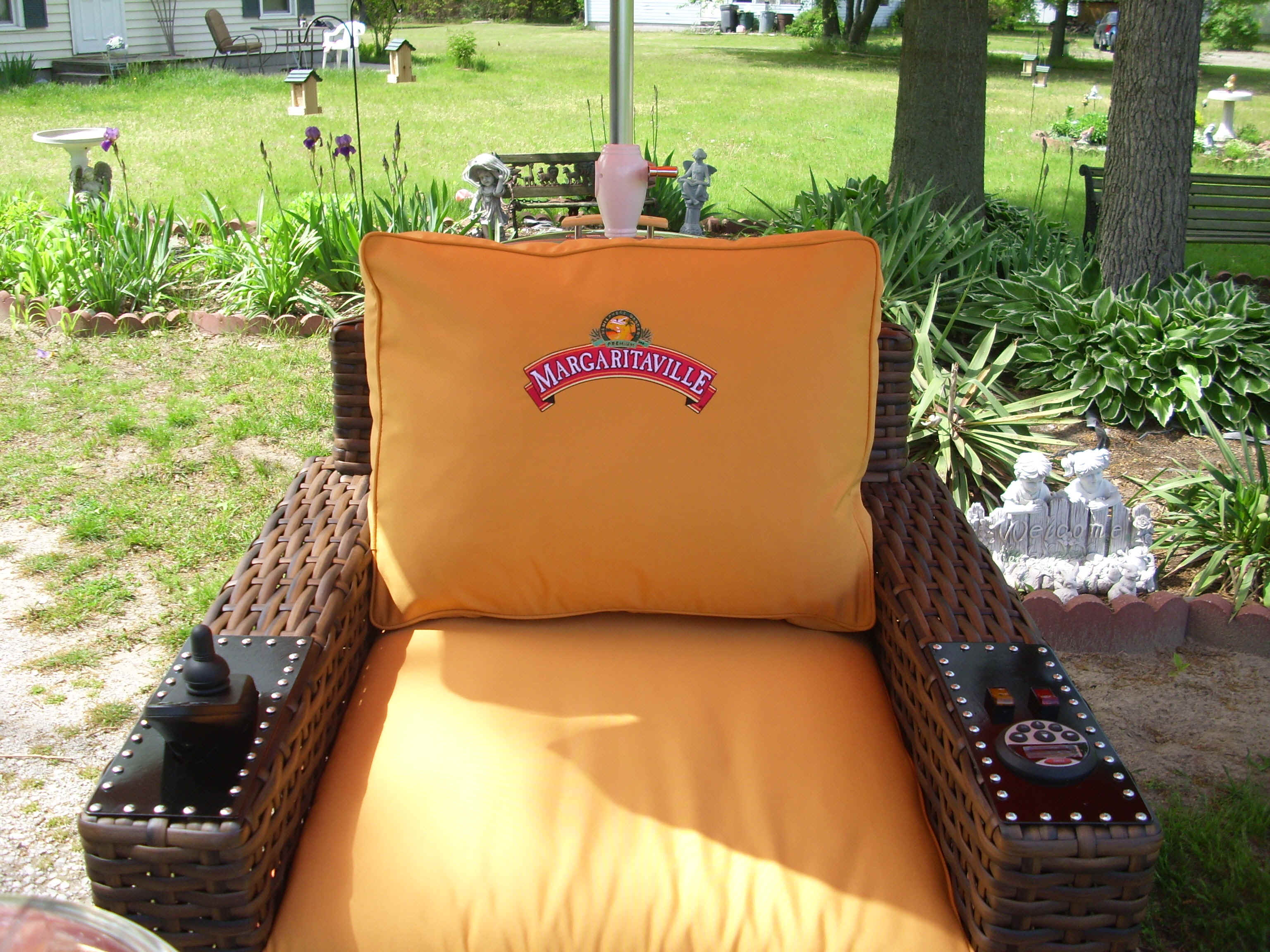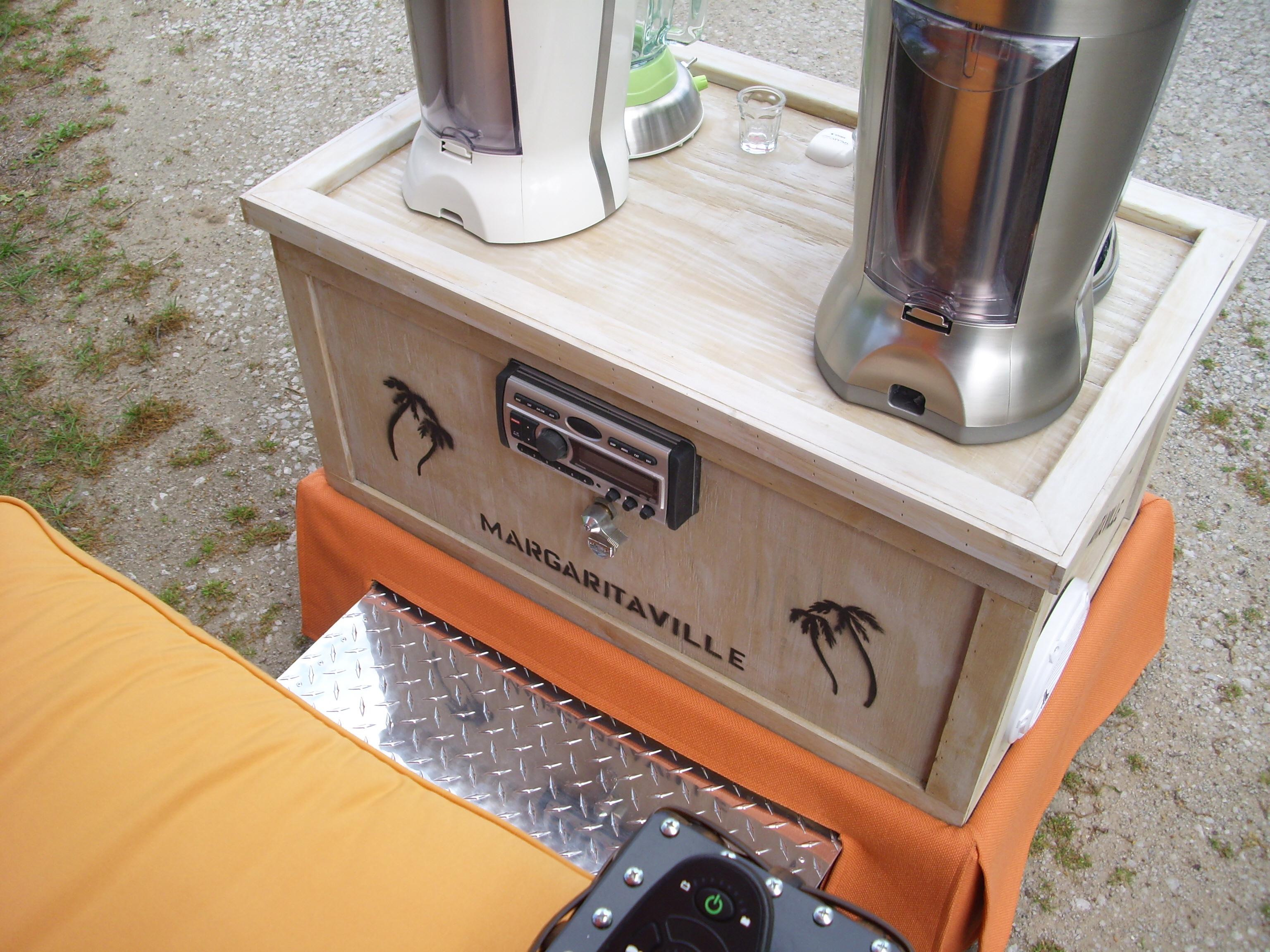 On tour this year with the Great... Jimmy Buffett. Check for it in the parking lot!!
One other thing.... Cudos to the Clarion company for making a super Sirius satellite ready Cd player that actually picks up a signal inside my shop with all the doors closed. This happens to be marine unit that is unbelievable. This thing ROCKS. Coupled with the JL Audio speaker system, and our accousticaly tuned box, you can hear this beast with clarity hundreds of feet away.
Hey...Drop me a line. Tell me what you think.. Good
or bad.. Your input is important to me. All Emails are returned.
PLEASE REMEMBER TO TELL A FRIEND.. THEY WILL APPRECIATE IT!!!!